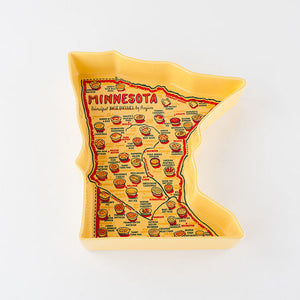 Minnesota "Hot" Dish
Gift Boxed
Oven to Table, Stoneware, 10" x 12
This is a Minnesota: Principal Hot-dish by Region Casserole Dish. It is made of oven-to-table, microwave and dishwasher safe stoneware. This casserole is 10.5" by 12.25" by 2" deep and holds 2 quarts. It comes in a decorative gift box that is 11" by 12.5". The dish has a lovely butter yellow glaze with Hot-dishes of Minnesota printed on the inside bottom.

In Minnesota Hot-dish is one word and is used interchangeably with the word casserole. This casserole is a humorous map of where the most popular hot-dish might be located. It is a fictional map, but, wherever possible, I try to adhere to local interests, as in Salmon Hot-dish on the North Shore, German Hotdish in the German areas of the state, Turkey Hot-dish, etc. Tater Tot Hot-dish is universal.

This Minnesota casserole dish makes a great housewarming gift, going away to college gift, Christmas and Holiday gift, in addition to birthday and wedding gift.